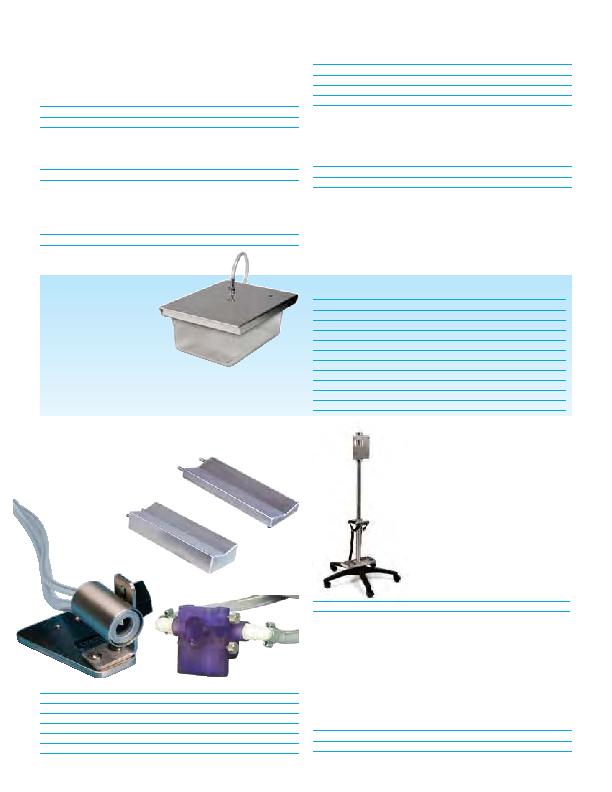 W
orld Pr
ec
ision Instruments
Mobile Workstations
Two mobile workstations, constructed of heavy-duty stainless steel with
locking casters, integrate all your EZ-Anesthesia components into one portable
unit. Open side shelves accommodate 20 lb. cylinders, and convenient 2" port
holes allow for easy rigging of gas and electrical lines. Below the work surface
of each mobile workstation is an open shelf and a locking cabinet. t provides
a 42"x24" work surface and holds up to four cylinders. EZ-E27000 has a
22"x21" work surface and holds up to two cylinders. These systems are easy
to set up and provide maximum flexibility and mobility.
Euthanex Lids
The Euthanex Lid system has
become an industry standard.
You no longer need to transfer
animals. The lids are available
in five sizes to accommodate
virtually all plastic cage sizes
designed for small lab animals. These
heavy duty stainless steel lids have a stem
fitting for connection to the quick-disconnect fitting on the hose from
the gas source. A foam lid gasket ensures a good seal on the cage.
Multiple lids may be used to treat several cages at once.
EZ-B800 Basic System
The Basic System is designed for use with a single animal. It utilizes one
output directly from the vaporizer into a Y-splitter which creates a dual
feed that can be directed to the induction chamber or the breather circuit.
This unit incorporates an oxygen flush system that purges the induction
chamber with pure oxygen, thereby eliminating personnel exposure to
anesthesia gas when opening the chamber.
EZ-1130 Connection Kit
This kit is used for connecting additional components to the EZ-Anesthesia
Systems. It includes 6 ft of clear PVC tubing with a quick-disconnect fitting.
EZ-830 Ventilator Connection Kit
This kit is used to connect the SAR-830 ventilators with EZ-Anesthesia
Systems. It includes all required components, pre-assembled for simple
connection between the ventilator and the anesthesia system.
EZ-177 and EZ-1785 Induction Chambers
These chambers incorporate a positive seal O-ring gasket for containment
during use.
EZ-320 and EZ-330 Oxygen Regulators
Regulators are preset to 50 psi.
EZ-320 utilizes a CGA-540 connection for large "H" tanks.
EZ-330 utilizes a CGA-870 connection for small "E" tanks.
EZ-340-XXXX Custom Hose Assemblies
Custom built hose assemblies for wall or ceiling outputs specific to facility
needs: Chemetron, Ohmeda, Schrader or DISS.
EZ-212
EZ-211
EZ-103
EZ-107
Vaporizer Pole Mount
The EZ-E28000 is a mounting option for the EZ-An-
esthesia system, combining system portability with
a small footprint. Constructed of Aluminum and
Stainless Steel, it features a five leg base for maximum
stability and an oxygen "E" tank mounting bracket.
Anesthesia system must be purchased separately.
World Precision Instruments
www.wpiinc.com
UK: Tel: +44 (0)1462 424700 · wpiuk@wpi-europe.com Germany: Tel: +49 (0)30-6188845 · wpide@wpi-europe.com US: Tel: 941-371-1003 · sales@wpiinc.com
World Precision Instruments
www.wpiinc.com
UK: Tel: +44 (0)1462 424700 · wpiuk@wpi-europe.com Germany: Tel: +49 (0)30-6188845 · wpide@wpi-europe.com US: Tel: 941-371-1003 · sales@wpiinc.com
EZ-E25000 Mobile Workstation, 42" x 24" Top
EZ-E27000 Mobile Workstation, 22" x 21" Top
E-28000
EZ-B800 Basic
EZ-B800A Basic System without Regulator
EZ-1130
Connection Kit
EZ-830
Ventilator Connection Kit
EZ-177
Sure-Seal Mouse Chamber (5"L
× 4.75"W × 4.38"H)
EZ-178
Sure Seal Mouse/Rat Chamber (9.75"L
EZ-1785 Large Mouse/Rat Induction Chamber (7"W
× 11"D × 6"H inside)
EZ-179
Rabbit/Guinea Pig Induction Chamber (12"W
× 18"D × 12"H inside)
EZ-320
Oxygen Regulator for large tanks
EZ-330
Oxygen Regulator for small tanks
EZ-20027 Small Lid (13" x 9") Fits old-style mouse cages
EZ-20028 Small Lid (16" x 10") Fits new-style mouse cages
EZ-20030 Square Lid (13" x 13") Fits Thorn cages
EZ-20032 Medium Lid (20.5" x 11") Fits rat cages
EZ-20034 Large Lid (23" x 16.5") Fits guinea pig cages
EZ-20029 Lid Storage Bracket (wall-mounted,holds up to four lids)
EZ-20027G Small Lid Gasket (13"x9")
EZ-20028G Small Lid Gasket (16"x9")
EZ-20030G Square Lid Gasket (13"x13")
EZ-20032G Medium Lid Gasket (20.5"x11)
EZ-20034G Large Lid Gasket (23"x16.5")
EZ-104A Versaflex Non-Rebreathing Unit
EZ-103A Microflex Non-Rebreathing Unit
EZ-107A Rat Stereotaxic Non-Rebreathing Unit
EZ-109
Multi-Animal Non-Rebreathing Unit
EZ-211
Mouse/Rat Thin-Line Heated Waterbed
EZ-212
Mouse/Rat Standard Heated Waterbed