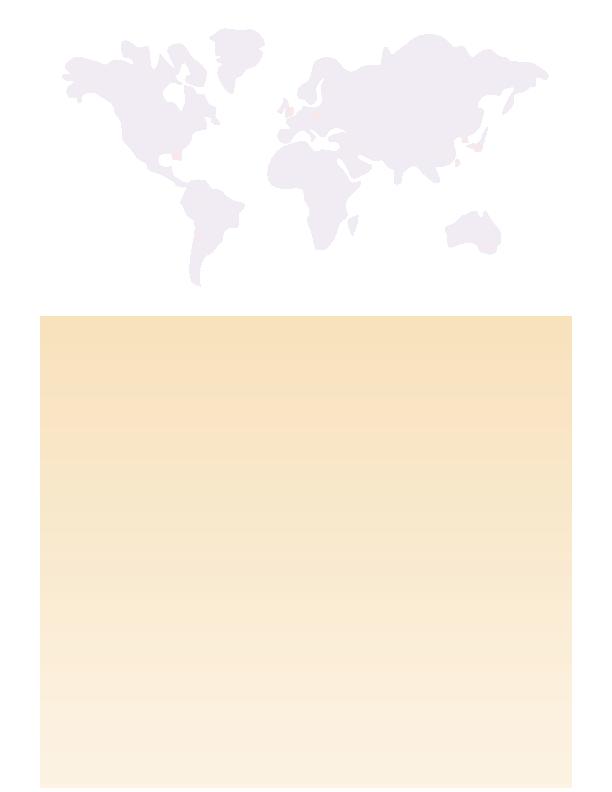 Ordering Information
Orders from North America should be directed to WPI's main office:
World Precision In stru ments, Inc.
175 Sarasota Center Boulevard
Sarasota, Florida 34240-9258
Telephone: 941-371-1003 (collect calls not accepted).
purchase orders, inquiries or other cor re spon dence may be transmitted to
WPI's Fax number: 941-377-5428. When sending written pur chase orders
to confirm a telephone order, please clearly mark "CONFIRMING" on the
order to avoid it being shipped a second time. Our Sales Department's e­
mail address is: sales@wpiinc.com
North American customers may also order many products on-line through
WPI's Web site -- www.wpiinc.com. All customers may use the on-line
Quote Request Form and on-line Purchase Order Form.
Orders from Belgium, Denmark, Eire, Finland, Luxembourg,
Norway, Portugal, Spain, Sweden, Switzerland (FR) and the United
Kingdom should be directed to
WPI UK: 1 Hunting Gate
Hitchin, Hertfordshire SG4 0TJ England
Tel: +44 (0)1462 424700 Fax: +44 (0)1462 424701
E-mail: wpiuk@wpi-europe.com
Customers in France may call +33 (0)970 44 9000 or e-mail
wpifr@wpi-europe.com.
Orders from Austria, Germany, Greece, Italy, Malta, Netherlands,
Russian States, Switzerland (DE) and Turkey should be directed to
WPI Germany: Zossener Strasse 55-58
D-10961 Berlin, Germany
Tel: +49 (0)30-6188845 Fax: +49 (0)30-6188670
E-mail: wpide@wpi-europe.com
Orders from China, Hong Kong and Taiwan should be directed to
WPI China: WPI Shanghai Trading Co., Ltd., Rm 20a
No8 Dong Fang Rd., Lu Jia Zui Financial District
Shanghai PRC
Tel: + 86 688 85517
Email: chinasales@china.wpiinc.com
Orders from the countries listed below should be directed to the
appropriate WPI distributors. All other international orders should be
directed to WPI's main office and factory in Sarasota, Florida.
To expedite shipment of orders outside North America (other than to
areas served by the international offices above), payment must be made
in advance via wire transfer, check payable in U.S. dollars, or charged to
a credit card. Proforma Invoices will gladly be furnished upon request.
Please specify proper electrical current for your order.
Argentina
Summit Research S.A
Rodrigo de Ibarrola 3140, 1D
C1419CGB Ciudad de Buenos Aires, Argentina
Telefono: (5411)-4566-8246
Fax: (5411) 4638-5049
E-mail: summit@summitar.com.ar
Australia, New Zealand
Coherent Life Sciences Pty. Ltd.
116 Sir Donald Bradman Dr.
Hilton, SA 5033
Tel: (61) 8-8150-5200
Fax: (61) 8-8352-2020
E-mail: sales@coherent.com.au
Brasil
Sellex (S.A.C.)
Rua Arandu, 205 / 1105
04562-030 - Sao Paulo - SP
Tel: (11) 5506-4646
Fax: (11) 5505-7433
E-mail: vendas@sellex.com
Website: www.sellex.com
Chile
Equilab Ltda.
DiazYCompañía Ltd.
El Quillay 627 sitio 96
Ciudad Empresarial Valle Grande
Santiago Chile
Fono: 56-2-4370217
Fax: 56-2-4650066
E-mail: mordenes@equilab.cl
Página Web: www.equilab.cl
Contact: Maria Cristina Ordenes
Hungary, Poland
Experimetria Ltd.
87 Podmaniczky Street
1062 Budapest, Hungary
Tel: (+36-1)-269 0191
Fax: (+36-1)-353 3451
Website: www.experimetria.com
E-mail: info@experimetria.com
This Distributor also covers: Albania, Belarus,
Bosnia, Bulgaria, Croatia, Czech Republic,
Estonia, Herzegovina, Latvia, Lithuania,
Republic of Makedonija, Romania, Serbia and
Montenegro, Slovakia, Slovenia
India
Labindia Instruments Pvt. Ltd.
Head Office: 201, Nand Chambers,
L B S Marg, Near Vandana Cinema,
Thane 400 602
Tel.: 022 ­ 2598 6062
Email: borgaonkarhv@labindia.com
Website: www.labindia.com
Other Labindia offices: Chandigarh, Delhi, Gurgaon,
Lucknow, Guwahati, Baroda, Bhopal, Kolkata,
Pune, Hyderabad, Bangalore, Chennai, and
Thiruvananthapuram
Israel
NBT NewBiotechnology Ltd.
Uri Schechter, Managing Director
3 Mekor Haim St.
P.O. Box 8662
Jerusalem 91086
Tel: 972-2-6732001
Fax: 972-2-6731611
E-mail: nbtsales@nbtltd.com
Website: www.nbtltd.com
Japan
LMS Co., Ltd.
Tanaka Bldg.
3-6-7 Hongo
Bunkyo-Ku, Tokyo 113-0033
Tel: 03-5842-4171
Fax: 03-3818-7095
E-mail: intldpt@lms.co.jp
Website: www.lms.co.jp
Physio-Tech Co., Ltd.
1-6-3 Iwamoto-cho, Chiyoda-ku
Tokyo 100-0032
Tel: 81-3-38642781
Fax: 81-3-38642787
E-mail: sales@physio-tech.co.jp
Korea
Scitech Korea Inc,
RM 801, 74 Gangbuk Electronics Industrial Complex,
Deongneung-ro 40-gil, Gangbuk-gu, Seoul 142-705,
Korea
Tel : +82 2 986 4413~5
Fax : +82 2 986 4429
Email : scitech00@korea.com
México
Alta Tecnologia en Laboratorios S.A. de C.
Sucursales:
GUADALAJARA, JAL.
Av. Inglaterra #2588
Col. Arcos Vallarta
Guadalajara, Jalisco C.P. 44150
Telefono: 52 (33) 36 16 52 04 Y 36 16 24
69
Fax: 52 (33) 36 16 97 30
E-mail: altatecenlabs@prodigy.net.mx
Website: www.atlsadecv.com.mx
Comoporis #43, Col el Caracol
Coyoacan, Mexico D.F. C.P. 04739
Telefono: 52 555 606 24 69 Y 52 04
Fax: 52 555 665 79 68
E-mail: atl@prodigy.net.mx
Website: www.atlsadecv.com.mx
Singapore, Malaysia, Indonesia,
Thailand & Pakistan
Prime Bioscience Pte Ltd
Block 196 Pandan Loop #07-02
Pantech Business Hub
Singapore 128384
Tel: + 65 6364 0391
Fax: + 65 6269 0745
E-mail: info@primebioscience.com
Website: www.primebioscience.com
WPI Distributors