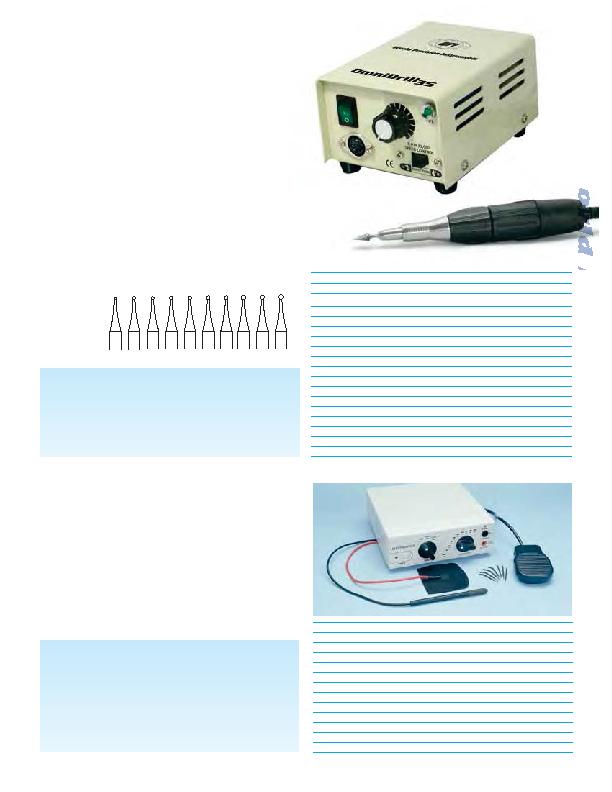 W
orld Pr
ec
ision Instruments
Wo
Electrosurgery utilizes alternating current at radio frequencies to cut and coagulate.
Using this method, the current enters the patient's body and the patient becomes
part of the electrical circuit. This requires the use of a return, or indifference plate.
This economically priced electrosurgical unit has 10 levels of output intensity,
three operational modes (cut, coagulate, and cut/coagulate), and various choices of
electrodes.
The unit comes complete and ready-to-use with a handpiece, indifference plate,
footswitch, and one of each electrodes. All accessories can also be ordered
separately.
Economy
Electrosurgical Unit
ELECTROSURGICAL UNIT SPECIFICATIONS
STABLE & FINE POWER SETTING
115V ± 10% - 50/60Hz 1.8A, 210VA
230V ± 10% - 50/60Hz 0.9A, 210VA
24cm x 22cm x 8.5cm (lxwxh)
OMNIDRILL35 SPECIFICATIONS
178 x 114 x 89mm (7 x 4.5 x 3.5in.)
Unit includes everything pictured
0.5 0.7 0.8 1.0 1.2 1.4 1.6 1.8 2.1 2.3
OmniDrill35
This line-powered micro drill will make easy work of grinding, finishing,
cutting, and drilling bone, teeth, and other material. The high-torque 35,000
rpm (maximum) motor is quiet and has minimal vibration which reduces
wear on the motor and provides greater comfort for the user. It also features
a forward and reverse switch, "E Type" handpiece, and handpiece holder. The
handpiece has a removable nose cone that can be cleaned and sterilized. It
accepts 3/32" and 2.33 mm bur shanks. Unlike battery-powered drills, this
unit will maintain consistent power for the duration of use. The wide range of
speeds allows the user to control the amount of heat generation.
The following accessories are included with the Micro Drill System:
Qty Description
4
Ball Mill, Carbide, #1, .031" Diameter
Ball Mill, Carbide, #2, .039" Diameter
Ball Mill, Carbide, #3, .047" Diameter
Ball Mill, Carbide, #4, .055" Diameter
Ball Mill, Carbide, #5, .063" Diameter
Ball Mill, Carbide, #6, .071" Diameter
Ball Mill, Carbide, #7, .083" Diameter
Ball Mill, Carbide, #1/4, .019" Diameter
Ball Mill, Carbide, #1/2, .027" Diameter
World Precision Instruments
www.wpiinc.com
UK: Tel: +44 (0)1462 424700 · wpiuk@wpi-europe.com Germany: Tel: +49 (0)30-6188845 · wpide@wpi-europe.com US: Tel: 941-371-1003 · sales@wpiinc.com
World Precision Instruments
www.wpiinc.com
UK: Tel: +44 (0)1462 424700 · wpiuk@wpi-europe.com Germany: Tel: +49 (0)30-6188845 · wpide@wpi-europe.com US: Tel: 941-371-1003 · sales@wpiinc.com
501274
Electrosurgical Unit, 110V
501285
Electrosurgical Unit, 220V
501273
Handpiece for electrodes,
501275
501277 Footswitch
501278
Diamond Shape Loop Electrode,
501279
501280
501281
501282 Wire
501283
Small Oval Loop Electrode,
501284 Ball
501286
503598
OmniDrill35 Micro Drill System, 110 V
503599
OmniDrill35 Micro Drill System, 220 V
REPLACEMENT ACCESSORIES
501850
Abrading Tip, Rubber, pk of 20
501851
Abrading Tip, Stone, pk of 5
501852
Accessory Stand
501853
Ball Mill, Carbide, #1, .031" Diameter, pk of 5
501854
Ball Mill, Carbide, #2, .039" Diameter, pk of 5
501855
Ball Mill, Carbide, #3, .047" Diameter, pk of 5
501856
Ball Mill, Carbide, #4, .055" Diameter, pk of 5
501857
Ball Mill, Carbide, #5, .063" Diameter, pk of 5
501858
Ball Mill, Carbide, #6, .071" Diameter, pk of 5
501842
Ball Mill, Carbide, #7, .083" Diameter, pk of 5
501860
Ball Mill, Carbide, #1/4, .019" Diameter, pk of 5
501861
Ball Mill, Carbide, #1/2, .027" Diameter, pk of 5
501862
Cutoff Disk, pk of 20
501863
Mandrel, Screw, pk of 5
501864
Mandrel, Threaded, pk of 5