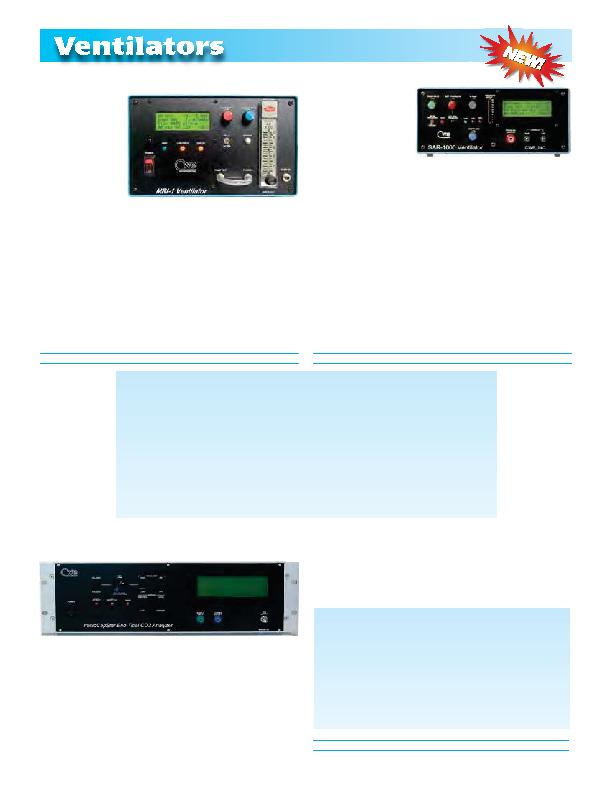 W
orld Pr
ec
ision Instruments
CW-SAR1000
The CW-SAR1000 Small
Animal Ventilator is a versatile
and easy-to-use ventilator
for mice, rats, and other
small animals. Volume mode
delivers a fixed tidal volume
on each breath, and pressure
mode causes inflation to stop
at a preset airway pressure. In either mode, lung inflation is maintained at the
end of inspiration until the percent inspiration (%Insp) time has elapsed. This
end inspiratory pause (IEP) improves gas exchange and the overall efficiency
of ventilation. In volume mode, the ventilator operates on the proven flow-time
principle, where a known airflow is delivered for a set time, thus delivering a
fixed volume. In pressure mode, airflow is simply adjusted to give a suitable
inspiration time. Actual tidal volume is computed and displayedon the LCD
display, as well as minute ventilation (MV) and other respiratory parameters. A
built-in air pump allows completely self-contained operation. This pump draws
in room air, oxygen, or anesthetic gasses through a rear-panel port.
Features
Pressure or volume-cycled operation
Wide tidal volume and rate range
User-friendly set-up and operation.
Direct display of Tidal Volume & all parameters
Remote control via USB port
Safe with oxygen and anesthesia
Multi-animal set-ups
VENTILATOR SPECIFICATIONS
CW-MRI-1
CW-SAR1000
0.2-35 mL (using internal valves. External valve
assemblies available for larger animals provide
up to 350 mL volumes.)
INSPIRATION/EXPIRATION RANGE
INTERNAL AIR PUMP CAPACITY
120/240V (switchable), 100VA
CW-MICROCAPSTAR SPECIFICATIONS
75mS at 70mL/min through cell
150mS at 50mL/min sampling
MAXIMUM SAMPLE CELL PRESSURE
120VAC/220VAC switchable, 25VA
microCAPSTAR CO
2
Analyzer
monitoring to the realm of small animals.
The advanced features, reliability and ease of operation make it the
perfect companion to the CW-SAR-830/AP small animal ventilator.
Featuring low sample requirements, rapid response time and long-term
stability, this CO
analyzer provides accurate end-tidal or continuous
measurement of expired CO
. The LCD screen displays CO
in either percent or mmHg), respiratory rate
measurements and trend plot of the end-tidal values. An adjustable ETCO
alarm warns when end-tidal values fall out of the user-adjustable preset
range. Built-in diagnostics warn of plugged sample tubing or other fault
conditions.
CW-MRI-1
The CW-MRI-1 ventilator
is a small animal
ventilator designed for
use in MRI and other
highly magnetic field
environments, though
its use is not limited to
those environments. It
offers manual or remote
operation of pneumatic,
non-metalic valves. The
CW-MRI-1 operates on
the flow-time principle,
dispensing a known airflow into the lungs for a set inspiratory time to generate
desired tidal volumes. Three controls­respiratory rate, inspiratory time and
flow rate­allow for accuracy and extraordinary flexibility over a wide range of
volumes, breaths-per-minute and inspiration/expiration (I/E) ratios. The unit can
be expanded to ventilate larger animals. A source of compressed air or helium
is required for operating the pneumatic valves.
Features
Non-metalic, pneumatic valves
Wide tidal volume and rate range
Safe with oxygen and anesthesia
Internal air pump
Direct readout of volume and rate
Features
Use with Ventilated or unassisted animals
End-tidal peak or continuous CO
2
readings
Low sample flow requirements, rapid response time
Simple one-gas calibration
World Precision Instruments
www.wpiinc.com
UK: Tel: +44 (0)1462 424700 · wpiuk@wpi-europe.com Germany: Tel: +49 (0)30-6188845 · wpide@wpi-europe.com US: Tel: 941-371-1003 · sales@wpiinc.com
World Precision Instruments
www.wpiinc.com
UK: Tel: +44 (0)1462 424700 · wpiuk@wpi-europe.com Germany: Tel: +49 (0)30-6188845 · wpide@wpi-europe.com US: Tel: 941-371-1003 · sales@wpiinc.com
CW-MRI-1
CW-SAR1000
CW-MICROCAPSTAR
Analyzer