Black coated surgical instruments are not only visually more attractive than the stainless-steel ones, there are several other benefits as provided below:
- Non reflective surface reduces eye-fatigue
- Has prolonged life
- Up to 10 times harder than stainless steel
- 60% lower wear rate than stainless steel
- Corrosion resistant due to oxidized aluminum coating
- Anti-allergic due to the absence of Chromium and Nickel coating
- Easy to clean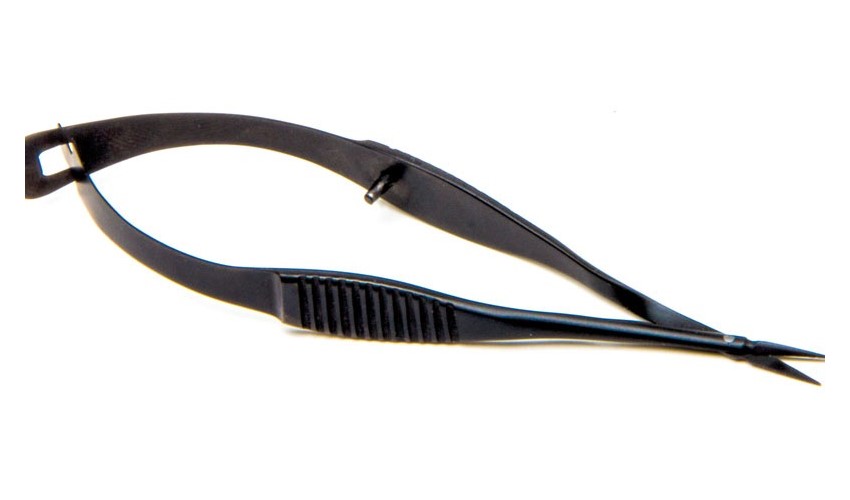 Making of the black coating instruments
The black coatings are created by applying a layer of Titanium Aluminum Nitrate (TiAIN) to the instrument, using an environmentally friendly Physical Vapor Deposition (PVD) process.
In this process Titanium and Aluminum are magnetron-sputtered onto the substrate in a vacuum chamber. The metal particles of the target are transformed into vapor phase, they interact with Nitrogen ions and get deposited onto the instrument as a few microns (µm) thin, high-density layer.
Oxidized Aluminum (Al2O3) at the surface of the coating acts as a corrosion barrier that has been proved by electro-chemical tests.
Moreover, the coating also provides a hydrophobic effect, lowered surface tension of the surface layer makes the instruments easier to clean.
Chromium and Nickel compounds are absent from the surface layer making the coating biocompatible.
Coating can be applied on all types of surgical instruments including:
Scissors
Forceps
Needle Holders
Hooks
Speculums
Clamps
Spatulas etc.
References:
Bio-compatible Low Reflective Coatings for Surgical Tools using Reactive DC-Magnetron Sputtering and Arc-Evaporation - a Comparison regarding Steam Sterilization Resistance and Nickel Diffusion - Frank Hollstein, Petr Louda - 26. International Conference on Metallurgical Coatings and Thin Films, San Diego, April 12-15, 1999, Paper G1-8
Erosion and Corrosion Behaviors of ADI Deposited TiN/TiAlN Coatings by Cathodic Arc Evaporation - Cheng-Hsun Hsu, Jung-Kai Lu, Kuei-Liang Lai and Ming-Li Chen - Materials Transactions, Vol. 46, No. 6 (2005) pp. 1417 to 1424 - The Japan Institute of Metals
Electrochemical corrosion and materials properties of reactively sputtered TiN/TiAlN multilayer coatings - R. Ananthakumar, B. Subramanian, Akira Kobayashi, M. Jayachandran - Ceramics International 38 (2012) 477–485
Investigation of properties and corrosion behavior of hard TiAlN and AlCrN PVD thin coatings in the 3 wt% NaCl solution - Vikas Chawla, Amita Chawla, Y. Mehta, D. Puri, S. Prakash and Buta Singh Sidhu - Journal of the Australian Ceramic Society Volume 47[1], 2011, 48-55