IO-KIT
Intraocular Injection Kit
---
Overview
Specifications
Accessories
Citations
Related Products
Overview
There are 1 images available to view - click to enlarge and scroll through the product gallery.
Includes SilFlex tubing, gasket, holder, and beveled tip assortment
NanoFil syringe sold separately
Less than 3uL dead volume
Achieve accurate, repetitive, oil-free injections
Benefits
No oil back filling necessary
Comes with four needle sizes included in the kit
Applications
Retinal pigment epithelium injection
Mouse brain injection
These kits are specially designed for eye research for injecting retinal pigment epithelium (RPE) and intraocular (IO) in addition to brain injection in mice. They are used exclusively with a a NanoFil™ syringe and UMP3 to achieve accurate and repeatable oil free injections down to submicroliter ranges. Each kit includes two pieces of Silflex tubing, a holder assembly, spare gaskets, and an assortment of four needles — blunt for the RPE kit and beveled tips for the IO kit. Each kit comes with one each of 33, 34, 35 and 36 gauge needles so that first time users can find the best size for their application.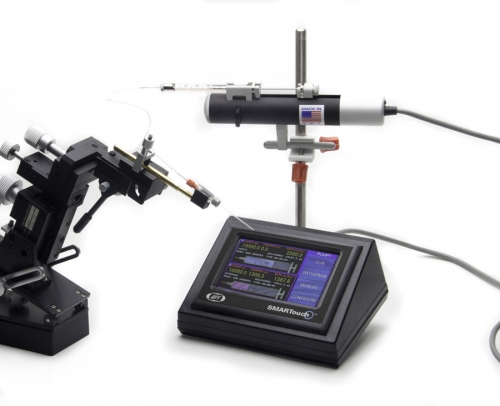 The Silflex tubing is a very important component of the kit. This 35 cm long, flexible tubing has a precise outer diameter for airtight fitting with the syringe. It also has a small inner diameter to minimize dead volume. The SilFlex is coupled to the injection tip with a seal system similar to that of the NanoFil. The dead volume of the entire kit (including the tubing) is less than 3 microliters. All of the components in the kit are constructed of inert, solvent resistant materials for easy cleaning after viral injection.
Includes:
The kit includes two pieces of Silflex tubing, a holder assembly, spare gaskets, and one each of the blunt needles: 33g, 34g, 35g and 36g.
Specifications
Accessories
Citations
RelatedItems