MP-225A
NEW - Motorized Micromanipulator
---
Overview
Specifications
Accessories
Citations
Related Products
Overview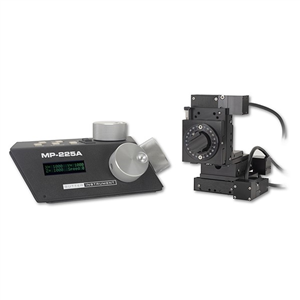 There are 1 images available to view - click to enlarge and scroll through the product gallery.
Features
The MP-225-A is a 3-axis motorized micromanipulator system comprised of the MP-225-A integrated ROE (Rotary Optical Encoder) with controller, a power adapter, and one MP-225 stepper-motor-based eletromechanical micromanipulator.
Highly stable for experiments intolerant of pipette drift
Submicron (125 nm) minimal resolution for fine movement
Convenient toggle switch selects resolution/speed of movement
New logarithmic mode automatically adjusts speed
25 mm of motorized travel on all three axes
4th axis for coaxial movement of pipette, any angle from 0-90 can be selected on ROE
Programmable Home position for pipette exchange
Programmable Work position near recording location
Absolute or Relative position display in microns
DIP switches on ROE to customize direction of movement produced by turn of ROE knob
Modularized, compact design easily adaptable to your setup
Universal mounting system for headstage or pipette holder
Mounting adapters included with manipulator
In 2002, Suttter created the MP-225 controller and motorized manipulator as a cost effective option for those who didn't need all the features of the industry standard MP-285. While the MP-225 feature set is less comprehensive than the MP-285's, it includes the most popular features with an efficient user interface. The MP-225 was designed primarily for positioning patch and intracellular recording pipettes. We have retained and refined the features most desired for this type of work.
In 2021, Sutter has updated the MP-225 controller design, now called the MP-225-A, by integrating the ROE and rack mounted controller box into a single unit to save you valuable space. This extended version of the popular rotary optical encoder (ROE) is the sole input device available with the MP-225A. The MP-225A mechanical continues to use a cable driven mechanical design that utilizes a miniature stepper motor and integral anti backlash gear head. Pre-loaded ball bearing slides provide smooth movement throughout the 25 mm of travel. The methodology for mounting pipette holders and headstages used with the MP-285 has been maintained in the MP-225A to allow for cross compatibility.
A newly added RELATIVE mode allows the user to zero the display at any point, showing travel distance from that point onward.
In addition to the fixed speeds, the MP-225A now has an option to use a logarithmic acceleration algorithm, which allows speed control proportional to the input speed. As the knobs on the ROE are turned faster, acceleration ramps up. This allows for smooth and intuitive motion control of electrode position without the need to stop and change speeds or lift your hand from the controller. When not moving, the motors will power down, reducing electrical noise in the system to unmeasurable levels while also keeping the motors cool to eliminate thermal drift.
The display on the ROE gives position location and, like the MP-285, the MP-225A manipulator has a synthetic 4th axis for diagonal advancement of the pipette; any angle from 0-90 degrees may be selected on the controller. Speed and resolution of movements are easily selected with a multiple position thumbwheel, allowing fast/coarse movement and slow/ultra-fine movement in 10 increments. Two commonly used robotic movements have been incorporated for user convenience: a single button press can initiate a move to a Home position for pipette exchange or to a user defined Work position to quickly relocate the pipette near the recording location.
As always, our technical support team is available to address your particular needs and answer all questions before and after your purchase.
Specifications
TECHNICAL SPECIFICATIONS
Travel
1 in | 25 mm on all three axes
Resolution
125 nm / microstep
Maximum Speed
2.0 mm/sec
Long Term Stability
< 1.0 micron in 2 hours
Drive Mechanism
Integral miniature stepper motor anti-backlash gearhead
Dimensions
Mechanical
4 in x 5.5 in x 6 in | 10 cm x 15 cm x 15.5 cm
ROE Controller
9.25 in x 4.5 in x 3 in | 23.5 cm x 11.43 cm x 7.62 cm
Weight
Manipulator
2.95 lbs | 1.3 kg
ROE Controller
3 lb 12 oz | 1.7 kg
Electrical
115/230 Volts
50/60 Hertz power line
RoHS Compliant


Accessories
Citations
RelatedItems