AIRTHERM-SMT-2W
Smart Air-Therm Heater 230V
---
Overview
Specifications
Accessories
Citations
Related Products
Overview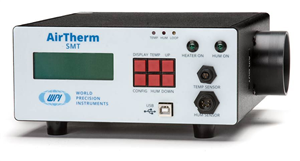 There are 1 images available to view - click to enlarge and scroll through the product gallery.
The AirTherm SMT is a new generation of heat control from WPI designed to be used in Live Cell Imaging applications with microscopes that are fitted with a full microscope environmental chamber enclosure. The standard AirTherm SMT controls temperature and, as an option, humidity.
The AirTherm SMT uses a PID control algorithm to maintain tightly controlled loops of heat and humidity environment control.
With AirTherm SMT, the temperature of the sample and microscope optics can be controlled to within 0.2°C. During operation, air is drawn out of the chamber through a flexible hose, heated by the AirTherm SMT heater, humidified (if desired) and re-circulated to the chamber by the return hose.
Precision heat controller for use in live cell imaging and custom incubators
Electrically and acoustically quiet
Quick, precise response to thermal change
The system is typically used in a closed loop configuration.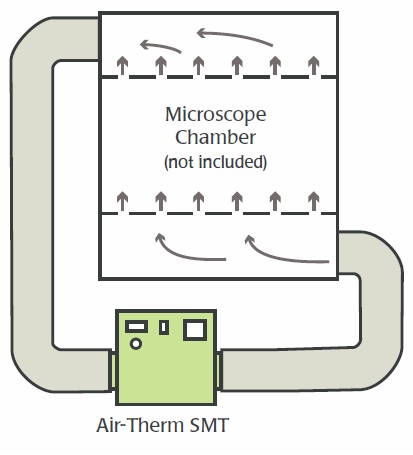 A typical AirTherm SMT installation places the heated air inflow at the bottom and the cold air return at the top of the microscope chamber.
System
The AirTherm SMT system includes:
AirTherm SMT
Coil-reinforced heater hose pieces, hose clamps
Temperature sensor for remote placement in environmental chamber
Optional Accessories
98728 Humidity sensor and cable
300411 Humidifier and cable
Specifications
Air Flow Rate
20–50 CFM (0.55–1.4 m3/minute)
Control Temperature Range
Ambient to 60°C
Temperature Resolution
0.1°C
Temperature Accuracy
0.2°C
Humidity Control Range
Ambient–90%
Humidity Resolution
0.1%
Humidity Accuracy
5%
Humidity Repeatability
0.5%
Analog Output For Chart Re-corder
0.5°C resolution;
0–10V represents 0–100°C
Heating Volume
Less than 50 CF (1400L), re-circulating
Temperature Sensor Type
Platinum RTD 1000O
Humidifier Type
Ultrasonic
Humidifier Tank Capacity
0.5 gallons
Humidifier Daily Output
2 gallons
AirTherm SMT Fuse
For 120VAC, 8A 250V 5x20mm metric;
For 230VAC, 4A 250V 5x20mm metric
AirTherm SMT Power
450W, 95–135V or 220–240V, 50/60Hz
AirTherm SMT Dimensions
6½ x 8 x 7½" (15.5 x 21 x 19cm)
Accessories
Citations
Bao, J., Huck, D., Gunther, L., Sellers, J., & Sakamoto, T. (2013). Actin Structure-Dependent Stepping of Myosin 5a and 10 during Processive Movement. PloS one. Retrieved from https://dx.plos.org/10.1371/journal.pone.0074936.g007
Dobes, N., Dhopeshwarkar, R., & Henley, W. (2013). Laser-based directed release of array elements for efficient collection into targeted microwells. Analyst. Retrieved from https://pubs.rsc.org/en/content/articlehtml/2013/an/c2an36342a
Frost, N., & MacGillavry, H. (2014). Live-Cell PALM of Intracellular Proteins in Neurons. Nanoscale Imaging of …. Retrieved from https://link.springer.com/protocol/10.1007/978-1-4614-9179-8_6
Fukuda, M., Hino, H., & Suzuki, Y. (2013). Postnatal interleukin-1ß enhances adulthood seizure susceptibility and neuronal cell death after prolonged experimental febrile seizures in infantile rats. Acta Neurologica …. Retrieved from https://link.springer.com/article/10.1007/s13760-013-0246-y
Hoff, B., & Chenevert, T. (2013). Non-Mono-exponential Diffusion. Non-Invasive …. Retrieved from https://deepblue.lib.umich.edu/bitstream/handle/2027.42/102381/bahoff_1.pdf?sequence=1#page=26
Lemasson, B., Galbán, C., Boes, J., & Li, Y. (2013). Diffusion-Weighted MRI as a Biomarker of Tumor Radiation Treatment Response Heterogeneity: A Comparative Study of Whole-Volume Histogram Analysis. Translational …. Retrieved from https://www.ncbi.nlm.nih.gov/pmc/articles/PMC3799198/
Li, R., Liu, Y., Pedersen, H., Kragh, P., & Callesen, H. (2013). Development and quality of porcine parthenogenetically activated embryos after removal of zona pellucida. Theriogenology. Retrieved from https://www.sciencedirect.com/science/article/pii/S0093691X1300109X
Mukundan, V., Nelson, W., & Pruitt, B. (2013). Microactuator device for integrated measurement of epithelium mechanics. Biomedical microdevices. Retrieved from https://link.springer.com/article/10.1007/s10544-012-9693-0
Williams, T., Galbán, S., & Li, F. (2013). DW-MRI as a predictive biomarker of radiosensitization of GBM through targeted inhibition of checkpoint kinases. Translational …. Retrieved from https://www.ncbi.nlm.nih.gov/pmc/articles/PMC3610547/
RelatedItems

Microscope Incubators
Developed by Microscopists, for Microscopists: In Vivo Scientific offers the most ad...