SI-CTS200
Single Cell Tester
---
Overview
Specifications
Accessories
Citations
Related Products
Overview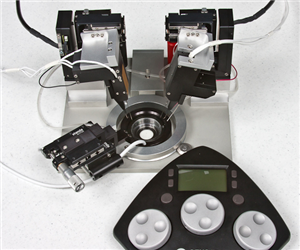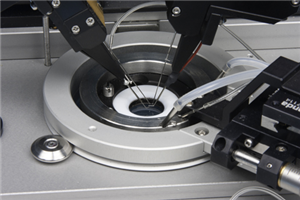 There are 2 images available to view - click to enlarge and scroll through the product gallery.
The Cell Tester is the product of three years of design and field testing. It represents a blending of state-of-the-art technologies, including electronics, mechanics and optics. The end result is a revolutionary new research tool for cellular investigation.
All living systems can be studied from several perspectives. We can examine the entire organism or a specific organ system. We can characterize a single organ in a system or a type of tissue in an organ or the cells that make up that tissue. To completely understand any system, all of these perspectives must be considered. Often, entirely different systems are needed in a parallel experimental paradigm. The Cell Tester accomplishes this on one platform.
The Cell Tester can, without any changes, be used for one single living cell, for a small multi-cellular preparation and for single or larger skinned muscle strip preparations. Translational experiments from the single living cells to the intact multi-cellular level can be accomplished. For example, using the Cell Tester, the influence of the connective tissue on muscle function can be distinguished from the clean muscle work for the first time. Conversely, skinning allows a direct comparison between the living cell response and a cell, whereby the subcellular contractile proteins are studied with full experimental access to cell signalling and cellular biochemistry.
The Cell Tester provides researchers with the comprehensive ability to investigate and characterize the physiological, bio-mechanical and bio-physical properties of single isolated living cells and extend these findings to the sub- and multi-cellular level.

Courtesy of Ben Prosser, Chris Ward, Ramzi Khairallah, Jon Lederer
Univ. of Maryland, Baltimore
SYSTEM ORGANISATION
The Cell Tester is designed to sit on top of the stage of a standard inverted research microscope. The optical path of the microscope is left intact for simultaneous fluorescence or confocal imaging.
Nanomotor
The heart of the system is a tuned and paired combination of a linear actuator offering nanometer (nm) precision and a force transducer with nano Newton nN) sensitivity. Each element (actuator and sensor) is equipped with a remote controlled micro grabber that allows tissues to be held firmly. In addition, a critically important, non-cytotoxic adhesive (MyoTAK) facilitates the bonding of tissue to the measuring device where needed.
Force Transducer
KG-series force transducers measure a large range of detectable forces. The transducer with the highest sensitivity (20nN) is sufficient to measure the force of a single heart cell. Because all transducers are extraordinarily rugged, withstanding even overload forces, they come with a lifetime warranty on the optical transducer heads.
Rotating Cuvette
| | |
| --- | --- |
| | The complete system utilizes a unique rotating bath to dramatically improve experimental throughput. The rotating bath is designed to orient cells in the XY plane so that no physical manipulation of the position of the cell itself is required prior to capture by the grabbing devices attached to the force sensor and linear actuator. |
Electronics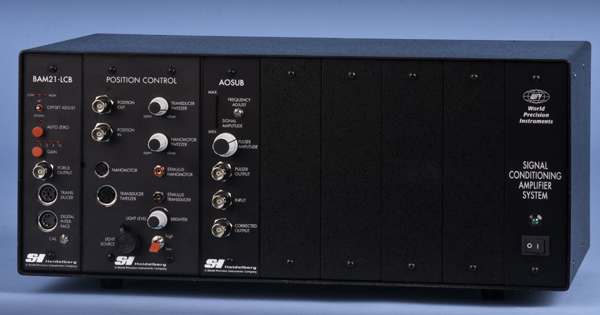 WPI's Signal Conditioning Amplifier System is a customizable electronic platform. It consists of an 8-channel, rack-mountable frame with an ultra quiet, shielded power supply. For the Cell Tester, it includes the Nanomotor controller, the SI-BAM21LCB amplifier and the SI-AOSU anti-oscillation unit.
The SI-BAM21-LCB KG Optical Force Transducer Amplifier powers the force transducer and outputs an analog voltage proportional to the force applied to the force transducer. The force feedback signal can be multiplied by a factor of 1, 2, 5 or 10 to provide better resolution for a minimal change in applied force.
The anti-oscillation option eliminates the native resonance frequency of the transducer and mounting support for unparalleled low noise recording and fidelity.
When temperature control is required, the SI-TCM2 is used. One channel powers the cuvette heater, and the other simultaneously powers an optional, inline solution heater. This module uses digital control to maintain a constant temperature. It has both high and low alarm warnings which can be user defined.
Data Acquisition
The data from the Cell Tester can be recorded by any generic data acquisition system. The custom application suite and unique hardware, MDAC, records up to eight channels of analogue data together with cell force and cell length at up to 100kHz/channel. The application suite will be expanded in the future with more dedicated muscle test procedures in an open source, industry-standard environment.
xySpark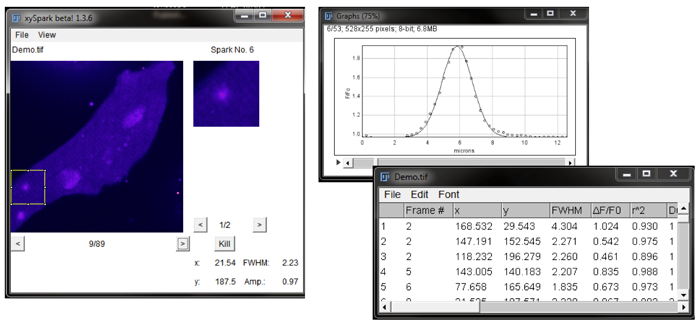 xySpark is a free plugin for ImageJ (developed by Derek S. Steele and Elliot M. Steele, University of Leeds) that allows automatic detection and analysis (amplitude, width, frequency, duration and mass) of Ca2+ sparks in x-y confocal image stacks, implemented as a plugin for ImageJ/Fiji.
The plugin employs a conventional thresholding algorithm, similar to that described for use with line-scan images (e.g. Cheng et al. "Amplitude distribution of calcium sparks in confocal images: theory and studies with an automatic detection method." Biophysical Journal 76.2 (1999): 606-617; Picht et al. "SparkMaster: automated calcium spark analysis with ImageJ." American Journal of Physiology-Cell Physiology 293 (2007): C1073-C1081).
xySpark provides an interactive graphical user interface and includes methods to enable accurate identification of cells within confocal fluorescence images, compensation for slow changes in background fluorescence during data collection and options that allow exclusion of aberrant events based spatial characteristics.
Download:
https://www.fbs.leeds.ac.uk/staff/steele/xySpark/
Specifications
SI-CTS200
System includes: Nanomotor with microtweezer, rotating cuvette, SI-KG Force transducer with microtweezer, Signal Conditioning Amplifier System with SI-BAM21LCB, SI-AOSU, Nanomotor position controller (piezo motor driver), 2 high end remote controlled motorised manipulators, MDAC data acquisition system.
Accessories
Citations
RelatedItems
SI-HTB2M
2 Channel Horizontal Tissue Bath Motorized System